We're Changing the Game
in Toothbrush Storage
Where do you store your toothbrush? In a cup? On the counter? Why jeopardize your health? Flipper promotes good oral hygiene brush after sanitary brush- morning, noon & night.
How Do You Store
Your Toothbrush?
Eliminate hidden dangers that can threaten your exposed toothbrush & your health.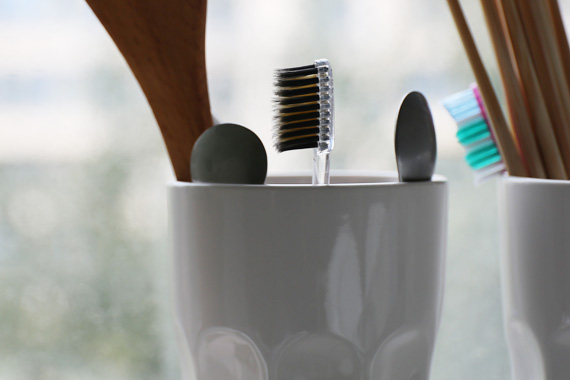 The 'More the Merrier' is Overrated
Germs love to party together! Stop cross-contamination by separation.
Don't Put Your Brush to Bed
Have your toothbrush stand upright at attention… ready & waiting for the next brush.
Avoid the Enemy
Open spaces breed germs and other yucky stuff-even from your toilet.
Can't Breathe!
Air tight containers leave your brush soggy & gross.
Our Solution
Clean, safe & sanitary brushing. Our innovative holder effortlessly protects your toothbrush so you don't have to.
Where It All Began…
Flipper is the ingenious invention of brilliantly progressive minds at Orca Innovation. Since hitting the market in 1999, Flipper has changed the way the world stores its toothbrush. Dedicated to providing a safe, quality product - we offer hundreds of design options for purchase across three continents. Flipper has quickly become an accessory used in bathrooms everywhere. Delighting children, teens and adults with its innovative simplicity, hygienic features and enchanting designs, we remain committed in our mission of inspiring smiles while we make brushing fun!
Recognised Awards:
Patent Numbers:
US 6,457,583 • EU/UK 1272069 • Japan 3920016 • Korea 0375754 • China ZL00814919.4 • Hong Kong HK1069965 • Taiwan 186324 • Singapore 89886 • Malaysia MY-125725-A
The World
Loves a Flipper
We've travelled the globe, but now we're expanding
so everyone can enjoy Flipper.